ClearFiber™- An all-natural prebiotic soluble fiber (tasteless , dissolves clear )
Regular price
-2%
$18.27 USD
Sale price
$17.92 USD
Couldn't load pickup availability
INVISIBLE FIBER. VISIBLE BENEFITS

The average American consumes less than 1/3 the recommended dietary fiber intake. Even for those individuals with a healthy diet, there are some days when it might be difficult to meet the recommended amount.

AlchePharma's ClearFiber provides 3 grams of soluble fiber per serving and is a convenient way to ensure you meet your daily intake for dietary fiber. ClearFiber uses the patented SunFiber derived from partially hydrolyzed guar gum. SunFiber has been used in numerous clinical studies demonstrating its many health benefits.

AlchePharma's ClearFiber Powder is tasteless, colorless, odorless, gluten free, and readily dissolves in water. A true regulating fiber, it improves both conditions of constipation and diarrhea.* The result is regularity with healthy consistency.* ClearFiber dissolves rapidly and crystal clear in your favorite beverages. It wont alter the taste or texture of foods. Sunfiber may be added to recipes when cooking or baking.

USES:
Digestive Health
Cooking & Beverage

Heart Health
Sports & Performance Formulations
Weight Management
Low FODMAP

Gluten Free

No Viscosity, No Grit

100% Natural

Low Calorie Fiber

 Improves absorption of minerals, proteins and other active ingredients
SunFiber®
SUNFIBER®IS THE INVISIBLE FIBER WITH VISIBLE BENEFITS
Sunfiber® (Partially Hydrolyzed Guar Gum) is an all-natural, Patented, water-soluble, non-viscous, non-gelling, dietary fiber that is derived from guar gum made by Taiyo International. Sunfiber® is a Galactomanan (not a starch or sugar based fiber) treated with a natural enzyme process that lowers viscosity 10-fold and makes it readily soluble in water. 
Sunfiber®is an all-natural prebiotic soluble fiber that supports your digestive health:
Sunfiber

®

is a truly regulating fiber. It helps food move through your gut at just the right pace, improving both occasional constipation and occasional diarrhea.*

It feeds the good bacteria in your gut, promoting a healthy gut flora and contributing to overall wellness.*

 Sunfiber® helps the body combat increased blood glucose levels by controlling the glycemic index of foods.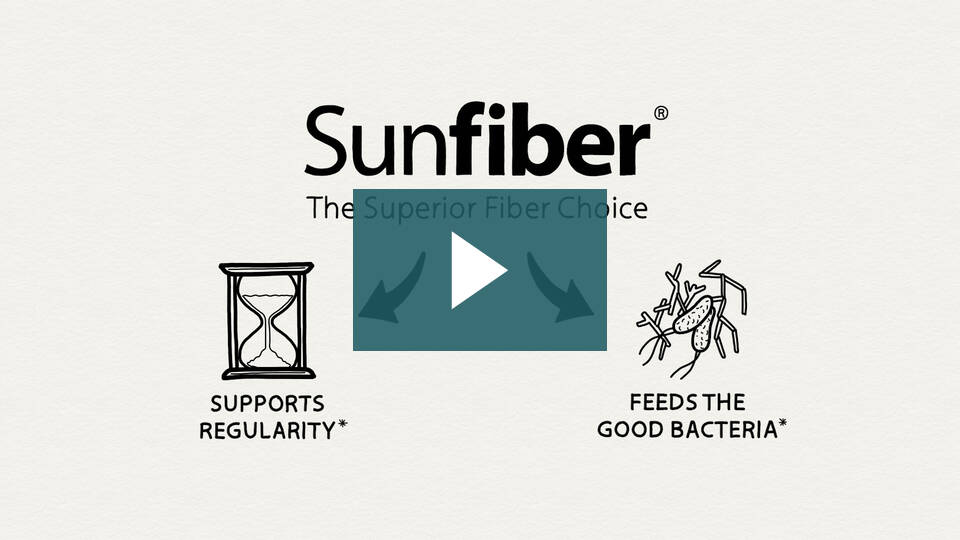 Many dietary fibers block the absorption of essential minerals such as magnesium and calcium into the body. Sunfiber® promotes the absorption of these and other helpful minerals.   All fibers can help alleviate constipation and irregularity. But Sunfiber® does so without the undesirable and problematic side effects of diarrhea. Sunfiber® alleviates constipation without overly degrading stool firmness. The result is regularity with healthy consistency.  
SUNFIBER® IS EASY-TO-TAKE
Sunfiber® dissolves rapidly and crystal clear in your favorite beverages. It won't alter the taste, aroma or texture of foods. Sunfiber® can also be used when cooking or baking.   This truly regulating soluble fiber moves through your body at a comfortable pace, without causing the excess gas or bloating associated with other fibers.*